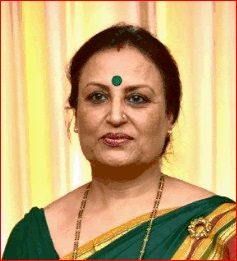 Smt. HK Joshi, joined SCI on 5th February, 2015 as Director (Finance) and was also appointed as CFO of the Company w.e.f. the same date. She has held additional charge of Director (P&A) in 2017-18 and additional charge of D(B&T) for a brief period in October/November 2019. Consequent upon the completion of tenure of CMD SCI, on 11.09.2019, Mrs. Joshi held additional charge of CMD, SCI, until 18th December 2019, and has assumed the charge of Chairperson & Managing Director w.e.f. 19th December 2019, consequent to her appointment conveyed by the Ministry of Shipping.
With a very rich and diversified experience spanning over three decades with ONGC, a Mammoth Maharatna PSU, her experience there includes almost two decades with ONGC Videsh Limited (OVL – overseas arm of ONGC) which looks after the international business acquisitions of ONGC wherein she was actively associated with the path breaking international transactions which led the company (OVL) to turnaround. This assignment gave her a lot of opportunity to travel and develop her professional attributes to International standards. She started her career as a Lecturer in Delhi University and joined the corporate world in 1984. 
She is a member of the Institute of Directors (IOD) and a Fellow Member of The Institute of Cost Accountants of India. A rank holder in her Post Graduation  in Commerce with specialization in Financial Management from the prestigious Delhi School of Economics, Delhi University after her B.Com(Hons.) from Delhi University. She additionally also has a Masters of Business Administration (MBA) with specialization in Financial Management.   She believes in continuous learning and has a string of further academic qualifications which she acquired throughout her career. 
In July 2015, she was honoured with "CMA CFO Award 2014" from The Institute of Cost Accountants of India.  She has been the recipient of "The Most Influential CFOs of India Award" from Chartered Institute of Management Accounts, UK for two successive years, 2015 and 2016. She has also been awarded with "The Tenth India CFO Awards – Excellence in Finance to enable a Turnaround" hosted by International Market Assessment India Private Limited in association with Pierian Services in May 2016.   On 3rd of February 2018, she has been conferred with the Best Woman Employee Award 1st Place (Executive Category) by the Forum of Women in Public Sector under the aegis of SCOPE).  She was conferred with Woman of Substance award at the 18th Sailor Today Sea Shore Awards 2019 ceremony held on 16.11.2019.
She believes in team work which is evidenced with the various group awards that she received in her previous assignment with ONGC.