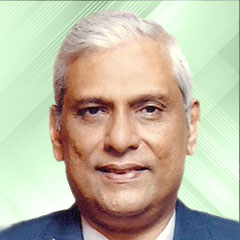 Shri Arun Balakrishnan has been appointed as the Independent Director on the Board of SCI w.e.f March 2016.
Shri Arun Balakrishnan superannuated as Chairman Managing Director of Hindustan Petroleum Corporation Ltd (HPCL), a Fortune 500 Company, in 2010 after having joined the company as a Management Trainee in 1976.
A Chemical Engineer, with a Post Graduate Diploma in Management from the Indian Institute of Management, Bangalore, he has held functions such as Marketing, Operations, Import-Export, Human Resources, etc. at HPCL. He is also the Founder Chairman of HPCL-Mittal Energy Ltd.(HMEL),a Joint Venture Company of HPCL and L.N. Mittal Investments, and is currently an Independent Director of the Board.
Additionally, he is Non Executive Independent Director on the Boards of a number of prestigious companies in the Oil Gas, Power, Real Estate, Space, Trading, Commodities Exchange, etc.
He is the recipient of "The Distinguished Alumni Award2008" from his alma mater, the Indian Institute of Management, Bangalore amongst others.